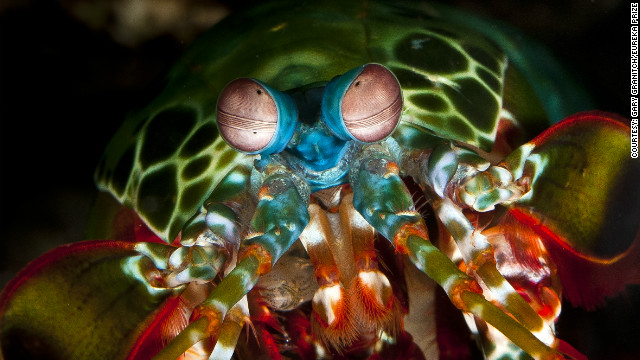 The brightly colored peacock mantis shrimp has one of the most complex visual systems in the marine world, and powerful club-like appendages that can smash through the shells of molluscs. Photo by Gary Granitch.
Competition organizers say this is the first time humpback whale mating has ever been documented. To earn the right to mate, the male whale had to compete for several hours in battles of strength and endurance against others in its pod. Photo by Jason Edwards.
This fly is preserved in 40-million-year-old Baltic amber -- fossilized tree resin. Photo by Scott Ginn.
A neuron with a beta-amyloyd plaque, which is thought to be the fundamental cause of Alzheimer's disease. The sample was platinum-coated and magnified 3,200 times. By Linnea Rundgren.
This photograph shows a critically endangered Lord Howe Island stick insect emerging from its egg after six months of incubation. The photographer, Rohan Cleave, waited patiently for many weeks to capture this image.
As part of the solar cycle, the sun enters a period of maximum activity every 11 years, showing flares and sunspots. This high-resolution, full solar disk in hydrogen alpha light was captured by Peter Ward.
A red-throat emperor being released after having an acoustic tag surgically implanted (the scar can be seen in the image) at Heron Island within the Great Barrier Reef. By Dave Abdo.
Cyana meyricki caterpillars are covered in a spiny layer of hairs, which form a protective cage when it is ready to pupate. But in this image, the caterpillar has been eaten by a parasitoid fly, which is now hanging in the cage, protected from predators. By Damon Wilder.
The green lacewing insect is known for the complex network of veins that give its wings a lacy appearance. Photo by David Paul.
This scanning electron microscope image shows a 6-day-old germinating arabidopsis seedling. The image has been artificially colored to resemble the natural colors of the seedling. Photo by Dr. Mark Talbo.
Mantis Shrimp
Humpback Whale Mating
Fly in Amber
Tracking Alzheimer's Disease
Lord Howe Island Stick Insect Hatching
Towards Solar Maximum
Red-throat Travels
Killer in a Cage
Green Lacewing
Another Day in the Life of Arabidopsis