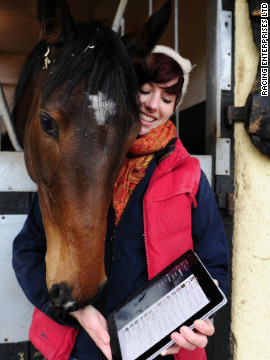 @peopleshorse: "Really enjoying my little holiday - getting a serious tan! NOL."
@blackcaviar2006: "Goodbye UK, and thank you for your hospitality Your Majesty. I enjoyed my time in Newmarket and racing at Royal Ascot xx."
@frankel_horse: "Thanks for all ur kind messages...hopefully the news I may run an extra race has put a smile on your faces."
@Ill_HaveAnother: "Borrowed IPhone so I can write one last thing re: NYT and MSNBC pieces of shoddy "journalism" SANCTIMONIOUS. Now back to quarantine."
@AnfieldCat: "so it turns out Andy Murray is infact Scottish, not British."
Tweet Lady
Black Caviar
Frankel
I'll Have Another
Anfield Cat
STORY HIGHLIGHTS
Racehorses increasingly taking to Twitter to reach out to fans
Part of a growing number of popular animal accounts on Twitter
The key to success is to be funny, argues social media expert
Followers experience what it's like to own a race horse - without buying one
(CNN) -- You might think you're a big deal on Twitter. But unless you've got more than 20,000 followers there's a five-year-old horse out there tweeting you into a cyber hole.
Their posts mostly involve eating carrots and racing, but that hasn't stopped champion thoroughbreds Frankel and Black Caviar amassing a legion of followers to rival most B-grade celebrities.
The pair, along with Kentucky Derby and Preakness champ I'll Have Another, are some of the growing number of racing horses using Twitter to reach out to fans.
Like any sports star, it's no longer enough to simply perform well on the turf. Today, the job of being a champ is an all-encompassing juggernaut of marketing, fanbase and legacy.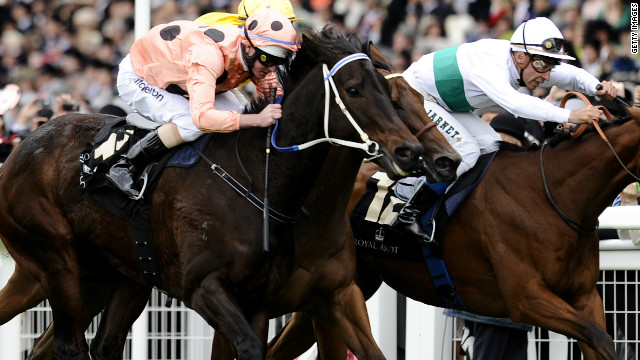 Australian "supermare" Black Caviar made it 22 wins from 22 races at Royal Ascot on Saturday, but only just. It took a photo finish to seperate Black Caviar and second-placed horse Moonlight Cloud.
Australian fans flocked to the British meeting to back Black Caviar in her first race on foreign soil.
Jockey Luke Nolen is congratulated by Queen Elizabeth II after riding Black Caviar to a narrow win in the Diamond Jubilee Stakes.
Trainer Peter Moody also met the British monarch following the horse's dramatic triumph.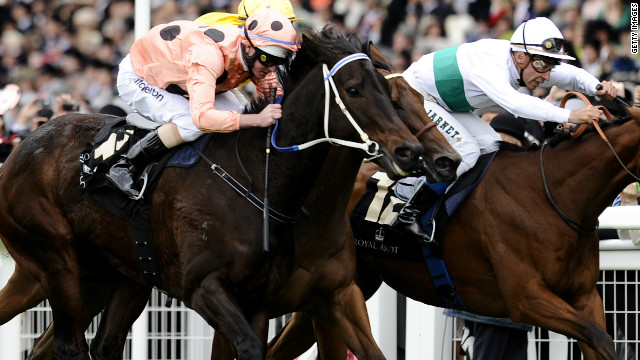 Black Caviar makes it 22 out of 22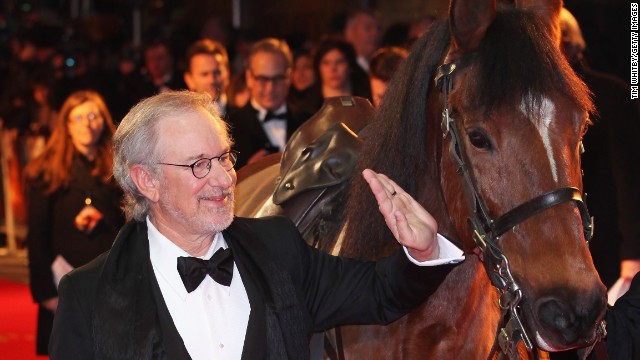 Oscar-winning director Steven Spielberg's interest in horses does not stop at the movie set. He co-owned racehorse Atswhatimtalkingabout, which came fourth in the 2003 Kentucky Derby. He is also an investor in Biscuit Stables, the Delaware-based race trainers.
Actor and director Kevin Costner, right, part-owns a number of racehorses which mainly run at Hollywood Park in California. He also supported the industry by voicing a documentary called "Laffit: All About Winning," celebrating the life and career of one of horseracing's most decorated jockeys, Laffit Pincay.
Pop icon MC Hammer, or Stanley Kirk Burrell on his passport, invested in and created his own Oaktown Stables. Hammer owned 19 racehorses at one stage, including the multiple Grade 1 stakes winner Lite Light and the aptly named Dance Floor -- which was third at the 1992 Kentucky Derby.
Rolling Stones guitarist Ronnie Wood runs Sandymount Stud in Ireland. He has also raced his own horses, including Sandymount Earl -- a gelding which won three times in three months at The Curragh, home of the Irish Derby.
Songwriter Burt Bacharach, left, has owned horses since 1980 and has seen them run in the Dubai World Cup and the Breeder's Cup. He has had notable successes with three horses over a near 30-year ownership period: Soul of the Matter, Afternoon Deelites and Heartlight No. 1.
American TV cook and celebrity restauranteur Bobby Flay is leading a new generation of celebrity into the racehorse business. He struck lucky on his first run, with Mrs. Kipling winning on her debut in 2009. Since then his horses have finished in the top three 16 times in 36 outings.
Soccer icon Alex Ferguson is a renowned owner of racehorses. Seen here with latest runner Forgotten Hero, the Manchester United manager was involved in a legal battle with Coolmore stud owner (and then major United shareholder) John Magnier about the stud fees of 2002 European Horse of the Year Rock of Gibraltar.
Racehorses are a popular subject in the Old Trafford dressing room, with former Manchester United striker Michael Owen also taking a big interest. He co-owns Manor House Stables -- the Cheshire-based racehorse trainers, as well as being the owner of a few horses himself.
Manchester United striker Wayne Rooney initially bought three horses -- Pippy, Tomway and Switcharooney -- but it was Yourartisonfire who provided his first win at English course Haydock Park on July 5.
Eddie Jordan (right) is no stranger to horsepower, having owned the Jordan Formula One team. The Irishman owns a number of horses in training with the Michael "Mouse" Morris stable in County Tipperary.
Britain's Queen Elizabeth is a renowned racehorse owner, with her first victory coming in her Coronation year of 1953 when Choir Boy won at Ascot. She is pictured here collecting the Queen's Vase after her horse Estimate triumphed at Royal Ascot this year -- her 21st win at the prestigious meeting.
As owner of the prolific Godolphin stables, United Arab Emirates ruler Sheikh Mohammed bin Rashid Al Maktoum has seen his racing unit secure nearly 200 Group 1 victories around the world every year -- creating an annual prize fund of $16.8 million. Godolphin has stables in Dubai, Ireland and the UK.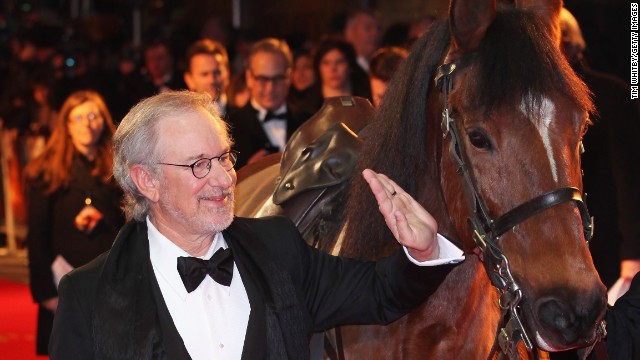 Celebrity racehorse owners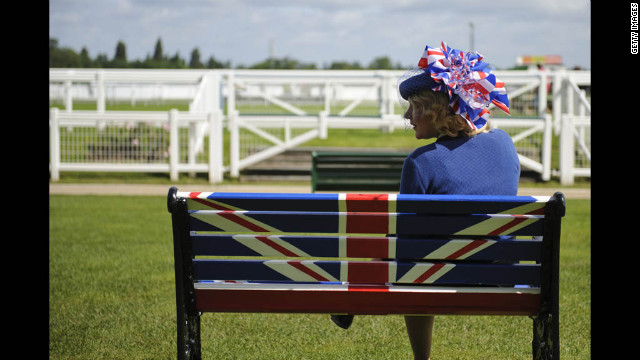 A race-goer attends day five of the Royal Ascot races in Ascot, England, on Saturday, June 23.
Queen Elizabeth II and Prince Philip, Duke of Edinburgh, arrive at the course on day four of the races.
A sign and flags hang in the air.
Attendees escape the rain under their umbrellas on day four.
An attendee examines a booklet with descriptions of the racers.
Riders race during the Diamond Jubilee Stakes on day five of Royal Ascot races Saturday.
Two onlookers congratulate each other with a high-five.
A large hat resembling the British flag sits atop a woman's head.
Racehorse Black Caviar neighs after carrying his rider across the finish line for the win on Saturday.
Racegoers sit at a table and study the form on Friday.
Queen Elizabeth II and Prince Philip, Duke of Edinburgh, and other members of the royal familly arrive in the Parade Ring at the Royal Ascot on Ladies Day on Thursday, June 21. Ladies Day is traditionally the fashion highlight of the five-day race meeting.
Rain falls on the race-goers attending the Royal Ascot.
A couple stand in a puddle at Royal Ascot.
Frankie Dettori celebrates riding Colour Vision to win The Gold Cup during Ladies Day at Royal Ascot.
A woman shows off her unusual hat.
Race-goers wear plastic rain covers over their dresses during some showers.
Frankie Dettori riding Colour Vision, center, to win the Gold Cup.
Larisa Katz shows off an umbrella hat design at Royal Ascot.
A visitor to Royal Ascot photographs her friends.
A woman poses with a striking hat and equine-themed umbrella.
A group of women in striking hats poses for a photo.
It's the end of the day in the silver ring during Ladies Day at Royal Ascot .
A race-goer poses on day three of the Royal Ascot.
Princess Anne and Princess Beatrice attends Ladies Day.
A worker checks benches in the grandstand.
Pat Smullen riding Princess Highway wins The Ribblesdale Stakes during Ladies Day at Royal Ascot at Ascot racecourse.
A worker attempts to dry tables and chairs at a Champagne bar on Ladies Day at Royal Ascot.
A bench is decorated with a Union Jack flag in the Grandstand on Ladies Day at Royal Ascot.
Top hats are worn by race-goers at the Royal Ascot in England on Wednesday, June 20. The five-day meeting is one of the highlights of the horse racing calendar and the season. Thousands of race fans are expected to attend.
Runners take the bend away from the grandstand at Ascot racecourse.
A visitor to Royal Ascot holds a race guide and a glass of Champagne.
Race-goers from The Royal Enclosure watch the arrival of the royal family.
Two women chit-chat on day one of the races.
Lisa Scott Lee attends day two of Royal Ascot.
Photographers in top hats snap photos of Royal Ascot attendees.
Queen Elizabeth II smiles as she arrives.
A dress code assistant holds a basket of pashminas at the main entrance to Royal Ascot. Visitors are expected to keep to a strict dress code.
Visitors to Royal Ascot enjoy a picnic before the start of racing.
A race-goer wearing a flamboyant hat poses for the media.
Race-goers sit together on a bench.
A woman in a striking hat attends day one of the races.
A woman wearing an elaborate hat designed to look like a bird cage attends day one of the races.
The Tootsie Rollers retro girl-band entertains visitors.
A race-goer poses for photographers at the races.
Race-goers ride an escalator down from the private boxes of the Royal Enclosure.
Jackie St. Clair attends day two of Royal Ascot.
Black Caviar, ridden by Paddy Bell, gallops before the Royal Ascot race meeting on June 14.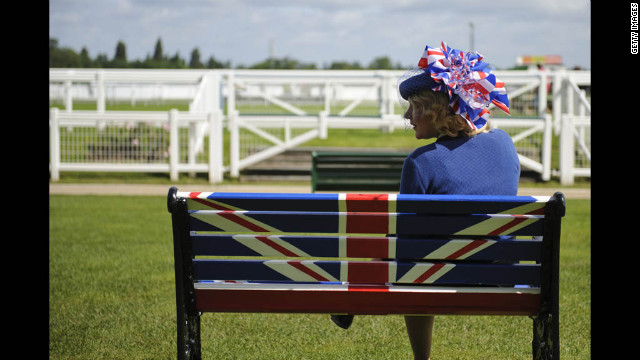 Photos: Royal Ascot 2012
Key is a presence on social media. And if it's good enough for our footballers, tennis players and athletes, then why not our winning horses?
Marketing mare
Their reasons for setting up a Twitter account are overwhelmingly commercial. In short, Black Caviar's PR team did it so no one else would.
"Once we trademarked the name 'Black Caviar' we had to protect it and stop unauthorized use," marketing manager Stephen Silk told CNN.
"The brand 'Black Caviar' is one that's quality, stylish, feminine, fast, sleek. We wanted to stick to that brand.
"We also believed that this was a good way to communicate with a younger audience."
So there's a definite emphasis on self promotion in Black Caviar's feed, with the majority of tweets flagging up media appearances.
And much like Jamaican sprinter Usain Bolt urging followers to download the iPhone app named after him, race horses are also utilizing the marketing power of social media.
The Royal Ascot winner recently promoted her own line of equipment: "Win 1 of 10 Joseph Lyddy Black Caviar 9 piece Grooming Kits visit http://bit.ly/Oyt7WU."
Meanwhile Frankel urged fans to get behind him before racing at Goodwood on Wednesday: "Thanks for all the tweets, as you can imagine I'm resting ready for tomorrow....10length victory tomorrow I can feel it..."
Tweet Lady
It's a platform that offers horses -- or at least their managers -- an interactive relationship with fans.
When Racing Enterprises Limited set up an account for three-year-old bay filly Tweet Lady, it was in the hope of giving the public a unique insight into owning their own race horse.
The British mare bills herself as "The People's Horse," tweeting about everything from enjoying the sunshine to her rigorous training regime. Instead of the acronym LOL, the friendly filly ends her posts with NOL (nay out loud, for the uninitiated).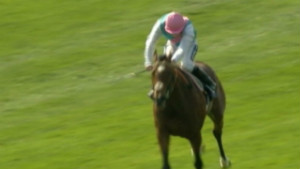 Is Frankel the greatest racehorse ever?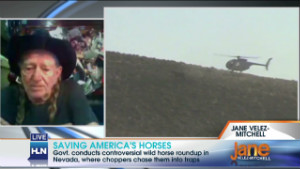 Willie Nelson urges respect for horses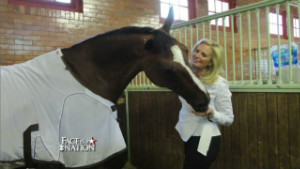 Ann Romney's horse Olympic-bound
"It gives people a taster so they can experience what it's like to own a racehorse -- without forking out the money and paying for one," said Stephanie Jones, PR executive for Racing Enterprises Ltd, the commercial arm of the British Horseracing Authority.
"People follow her out of curiosity. It's an amusing way of bringing the horse to life."
Horsing around
So Tweet Lady isn't actually knocking her hooves against the keyboard for our reading pleasure, but according to social media expert Kate Bussman, that's half of the appeal.
The author of "A Twitter Year: 365 days in 140 characters" points to the success of Sockamillion the cat and the Bronx Zoo cobra as irreverent animals endearing themselves to the cyber masses.
Sockamillion, known simply as "Jason Scott's cat," boasts almost 1.5 million followers. And all it took was posts like this: "GAAHHH BLANKET roll roll roll LOVE YOU BLANKET snug snug snug GAH BLANKET roll roll roll RELATIONSHIP STATUS IT'S COMPLICATED."
As Bussman says: "Twitter is a format that really does lend itself to humor. The whole point is to be pithy.
"It's just a funny way to kill a few minutes."
Paws for thought
With an estimated 6% of all pet dogs in the U.S. now boasting a Twitter account, who is behind their newfound digital prowess?
It's proven you get that endorphin buzz if people 'like' you or retweet you
Social media expert Kate Bussman
"We're seeing this parallel trend now of people setting up funny, jokey accounts," Bussman said.
"Twitter or Facebook are addictive and it's proven you get that endorphin buzz if people 'like' you or retweet you -- even if you're an anonymous celebrity."
Much like the cobra that went missing from Bronx Zoo last year, sometimes the simplest headline can spark a social media sensation.
When a gray-and-white tabby wandered onto the Anfield pitch during an English Premier League match in February, it became an internet hit.
The Tottenham Hotspur and Liverpool match was brought to a standstill and the "Anfield Cat" quickly assumed its own Twitter account.
"Quite disappointed John Terry isn't able to take a penalty, this game has lacked comedy #meow," is one of the posts that has now attracted more than 75,000 followers.
The brains behind the hugely popular cat are anonymous. But perhaps that's the perfect excuse to say things your human persona never could.