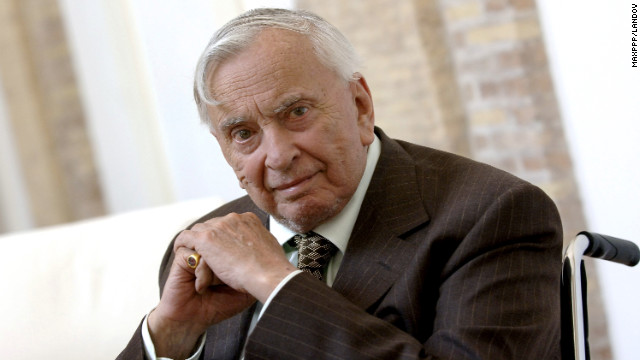 Gore Vidal, the eclectic writer who faithfully chronicled the major shifts and upheavals in the United States, appears at a Rome literary festival in 2006. Vidal died Tuesday, July 31, of complications from pneumonia, a nephew said. He was 86.
Vidal, at 21, poses for a portrait in 1947. In all, he wrote some 25 novels, two successful Broadway plays, numerous screenplays and more than 200 essays.
Vidal at home in an undated picture. Vidal's 1948 work, "The City and the Pillar," featuring an openly gay character, brought him notoriety at a time when homosexuality was still considered immoral.
Vidal with Mike Wallace in the CBS newsroom in 1978. Vidal would refer to himself as a once-famous novelist relegated to going on television because people "seldom read anymore."
Barry Commoner, from left, Vidal and Studs Terkel in 1980. In his later years, Vidal often appeared on the TV talk-show circuit, going head-to-head against those with opposing views.
Vidal at his home in Italy in 1993. Vidal relished his role as provocateur, as an anti-establishmentarian and as a self-proclaimed conspiracy "analyst."
Vidal and Susan Sarandon appear backstage during the Film Society of Lincoln Center's 2003 tribute to the Oscar-winning actress in New York.
Vidal on the terrace of his Italian residence in Ravello in 2004.
Vidal in his studio in 2004.
Vidal appears at the Los Angeles Times Festival of Books in 2007. He never shied away from controversy -- either actively courting it or inviting it through his acerbic one-liners.
Vidal attends a Museum of Contemporary Arts gala in Los Angeles in 2009.
Vidal and Jane Fonda embrace at the Stoney Awards in 2011.
Gore Vidal through the years
Gore Vidal through the years
Gore Vidal through the years
Gore Vidal through the years
Gore Vidal through the years
Gore Vidal through the years
Gore Vidal through the years
Gore Vidal through the years
Gore Vidal through the years
Gore Vidal through the years
Gore Vidal through the years
Gore Vidal through the years
STORY HIGHLIGHTS
Dick Cavett: Unless there's debauchery, talk in the afterlife, Gore Vidal hates being dead
Cavett says his friend was a wonderful talker and witty, eloquent and prolific writer
Cavett: You can't think ill of one who said, "Success is not enough. One's friends must fail"
Editor's note: Dick Cavett is an online columnist, contributor to The New York Times Opinionator blog, author of "Talk Show" and Emmy-winning, TV talk-show host.
(CNN) -- You can be sure of one thing. Gore Vidal hates being dead.
Unless of course we die and go somewhere where you can write, drink, have sex, appear on TV and, above all else, talk.
I once asked Gore his philosophy of how to conduct your life. The immediate answer: "Never turn down an opportunity for sex or being on TV."
He wrote enough for 10 men. Aside from his prodigious output of novels, historic and political essays, movies, TV scripts and hit plays, he was -- I feel safe in saying -- the best talker since Oscar Wilde.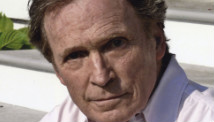 Dick Cavett
I got to spend a lot of time with Gore, on and off the air, and there was always a sort of afterglow. You felt you had just had a lovely bath in the elegant and witty use of our sadly declining English language. Gore's talk, if transcribed, could be printed without editing. If there seemed to be some preening in his prepared remarks on television -- and he knew a good line was worth repeating -- it was outweighed by the quality of the verbal prose.
In my notorious show known now through the ages as "Cavett's Mailer/Vidal Fight," there was a particular answer of Gore's to a challenge by Norman Mailer that actually got applause for, I think, its simple elegance: Gore had gotten a laugh, a feat difficult for Mailer to achieve. The exchange went: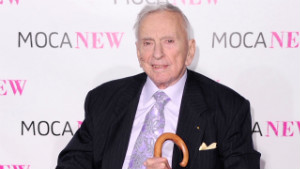 Writer Gore Vidal dies at 86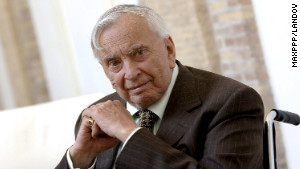 Remembering Vidal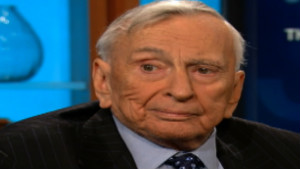 2009: Vidal on same-sex marriage
Mailer: Why don't you try to talk just once, Gore, without yuks? Why not just talk to me instead of talking to the audience?
Vidal: Well, by a curious thing we have not found ourselves in a friendly neighborhood bar, but both, by election, are sitting here with an audience, so therefore it would be dishonest of us to pretend otherwise (applause).
Hard to imagine Mitt Romney fashioning that sentence.
Much ink was spilled all over the country about that show. Asked by a journalist what comment he had about Mailer's head-butting him backstage, Gore said, "Once again, words failed Norman Mailer."
Opinion: Vidal's magnificent strengths, appalling weaknesses
My late wife and Gore became great friends. They laughed constantly together, often on the subject of their mutual knowledge of dwelling in the American South. Gore's favorite was her description of an elegant family dinner table in Mississippi with much lace and candles and crystal and the elderly matriarch -- bedecked in rich brocade and a jeweled tiara -- making her way unsteadily to the table after a touch or two of bourbon and Seconal upstairs.
Moments later, when she pitched forward into the cold soup, a family member, wielding a napkin and skilled in Deep South euphemism, would invariably say, "Mama's tired."
Gore later signed a book to my late wife, "For Carrie Nye: So tah'd. Gore."
She always said of him that for a man who describes himself as bisexual, "Gore really, really likes women."
Like all writers (it's almost safe to say) he was a big drinker. (See Hemingway, Fitzgerald, Faulkner, Cheever, Mailer, et al.) I once startled Gore by saying I'd just read that each drink kills more than 10,000 brain cells. He paled. "But you've got billions of brain cells," I reassured him. Gore responded: "But I've had billions of drinks."
Quotes of his are collected. It would be hard to dislike a man who was opposed to gay marriage "... because heterosexual marriage is such a disaster, why would anyone want to imitate it?" Or of Andy Warhol: "The only genius I've ever known with an IQ of 60."
Opinion: My friend, il maestro Gore Vidal
I don't have Gore's exact wording, but he once urged the idea that anyone who professes himself qualified to run for president of the United States should be immediately stopped and prevented from doing so.
He once made the statement -- only partially seriously? -- that the country's problems were all potentially curable by the simple method of listening to what he said.
He ran the only witty political campaign this side of Adlai Stevenson. He likely would not have made a great occupant of the Oval Office, but imagine the fun of those press conferences!
I once did a half-hour show, seen on PBS, with Gore from his fabulous castle-like home perched above a gorgeous valley at Ravello, Italy. Jet lag awoke me early one morning, and I peeked into his closed writing room. An old-style Royal typewriter sat at the precise center of a long, heavy antique table. Books extended outward from both sides of the typewriter for a couple of feet in both directions, all of them written by the occupant. I closed the door again, quietly, and got my breath.
The fact that some feel his greatest work is in his collected essays should be a word to the wise. They're stunning.
What a man and what a loss. I don't see how anyone could say or think anything negative about one who said, "Success is not enough. One's friends must fail."
Follow @CNNOpinion on Twitter.
Join us at Facebook/CNNOpinion.
The opinions expressed in this commentary are solely those of Dick Cavett.