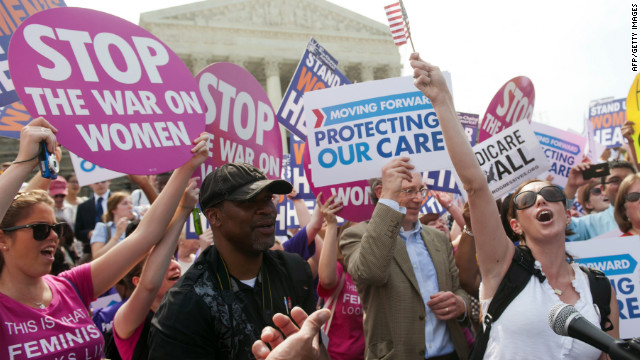 Supporters of the health care legislation celebrate after the Supreme Court upheld the constitutionality of the Patient Protection and Affordable Care Act in a 5-4 ruling Thursday, June 28.
Journalists and supporters and protesters of the health care law gather outside the Supreme Court after the justices ruled in favor of its constitutionality in a narrow decision.
Protesters against the health care law rally outside the Supreme Court before the justices issue their ruling Thursday.
Reporters and camera crews begin waiting early Thursday outside the Supreme Court in anticipation of the court's health care ruling.
President Barack Obama signs the health care legislation in a March 23, 2010, ceremony with Democrats in the White House East Room. The law, which critics dubbed Obamacare, is Obama's signature legislation.
The constitutionality of the 2,409-page act was challenged by 26 states. The most controversial aspect of the law -- the "individual mandate" -- would require individuals not covered by insurance via their employer or the government to purchase and maintain minimal health insurance or pay a penalty.
The Supreme Court held three days of politically charged hearings in March on the Affordable Care Act.
Opponents of Obama's health care legislation protest in front of the Supreme Court on March 28. Critics argued the law's requirement that most Americans have health insurance or pay a fine was an unconstitutional intrusion on individual freedom.
Advocates for universal, government-financed health care carry signs one month before the health care overhaul was signed into law.
Two years after Obama signed the health care legislation, the Supreme Court took up the historic test of whether it's constitutional.
The Rev. Patrick Mahoney leads demonstrators in prayer outside the Supreme Court on Monday, June 25, as they await the court's ruling.
The high court upheld the law's central provision -- a requirement that all people have health insurance. The decision will have an immediate and long-term impact on all Americans, both in how they get medicine and health care.
Health care and the high court
Health care and the high court
Health care and the high court
Health care and the high court
Health care and the high court
Health care and the high court
Health care and the high court
Health care and the high court
Health care and the high court
Health care and the high court
Health care and the high court
Health care and the high court