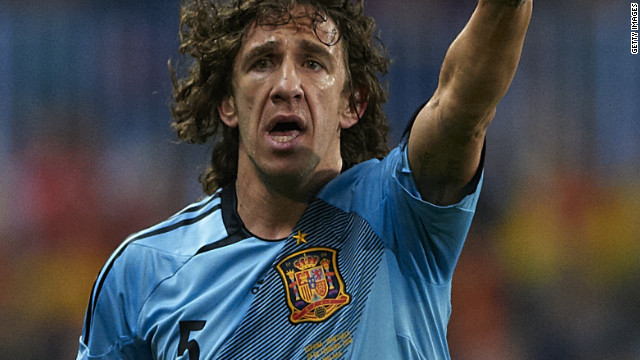 Defending champions Spain will be without injured defender Carles Puyol, pictured, and his Barcelona teammate David Villa -- La Roja's all-time leading scorer -- for the Euro 2012 finals.
Gareth Barry was the first England player to drop out of Roy Hodgson's England squad for Euro 2012 after injuring his groin in the friendly win over Norway.
England's Chelsea midfielder Frank Lampard was ruled out of Euro 2012 after picking up a thigh injury in training.
Everton's England international midfielder Jack Rodwell has suffered six hamstring injuries this season.
Ukraine's Shakhtar Donetsk defender Dmytro Chygrynskiy has been troubled by thigh injuries this season and will not be available for the Euro 2012 co-hosts.
Striker Ivica Olic was ruled out of Croatia's Euro 2012 squad after rupturing a thigh muscle in the 1-1 friendly draw with Norway.
Striker Loic Remy suffered a thigh injury playing for Marseille against Auxerre in May which has ruled him out of the finals. Remy had played a key role in qualifying, featuring in seven of France's 10 matches.
Sweden will be without Manchester City's John Guidetti after the striker suffered a muscle injury while on loan at Feyenoord. Guidetti scored 20 league goals for the Dutch side, including three hat-tricks in four matches.
Germany midfielder Bastian Schweinsteiger injured his thigh in Bayern Munich's Champions League final defeat to Chelsea on May 19 but is fit to play at Euro 2012.
Pain for Spain
Blow for Barry
Lampard pulls up lame
Rodwell's bad run
No home comfort
Olic on the sidelines
Frenchman falls
Guidetti no-go
Relief for Germany
STORY HIGHLIGHTS
FIFA rules do not allow the use of GPS during football matches
Governing body recently committed $75 million to player injury insurance policy
Sports scientist Craig Duncan says GPS could help cut down on number of player injuries
Exercise physiologist Raymond Verheijen believes as many as 80% of injuries are preventable
(CNN) -- Some of Europe's best footballers will be missing in Poland and Ukraine this month, as the effects of another grueling season takes its toll.
The English Premier League, the only one of the continent's major divisions not to have a winter break, is particularly brutal in its demands on players, with research by UEFA indicating that EPL stars are four times more likely to be injured in the last three months of the campaign than those elsewhere.
With so many matches being played -- and at such physical intensity -- perhaps player burnout is inevitable before a major championship such as Euro 2012 even starts.
But is it? What if coaches and medical staff had a way of tracking players' fitness, allowing them to be rested before injury occurs?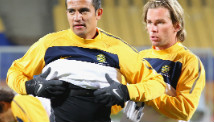 Players are allowed to use GPS in training sessions
One leading sports scientist, Dr. Craig Duncan, has come to the conclusion that soft-tissue injuries -- such as those suffered by England's Frank Lampard and Gareth Barry -- can be prevented if players wear global positioning systems (GPS) during matches.
A satellite-based positioning system owned by the US Department of Defense, GPS can measure how intensely players are working by tracking their position on the field.
A study of two international rugby union players, which was published in 2011, concluded that "GPS data provides important performance indicators, assists in the development of conditioning and training protocols, as well as injury management."
In Australia, where Duncan is based, the tool is permitted in rugby league and rugby union as well as Australian Rules football. However, according to football's ruling body FIFA, "GPS systems are not a part of the players' basic equipment" -- even though the system is used by clubs and international teams in training.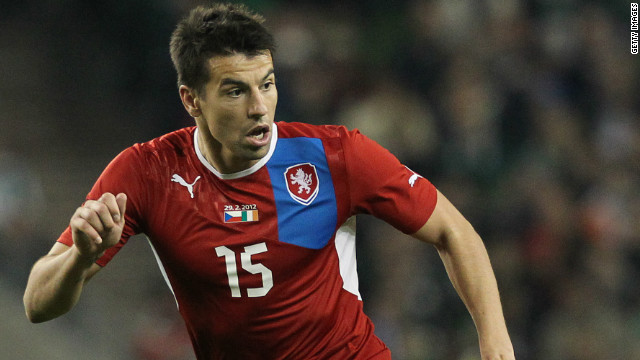 Czech Republic were solid in a kind qualifying group, finishing second to reigning champions Spain after conceding just eight goals in eight games. The Euro 1996 finalists' problems are in attack, where 30-year-old striker Milan Baros will be expected to provide a cutting edge.
Greece shocked the whole of Europe eight years ago, emerging from nowhere to be crowned Euro 2004 winners. One of the survivors of that team is midfielder Giorgos Karagounis, whose experience will be key if Greece are to reach the quarterfinals.
Co-hosts Poland boast one of Europe's most in-form strikers in the shape of Robert Lewandoski. The 23-year-old had a fine season with German champions Borussia Dortmund and he will be Poland's main goal threat in Group A.
The surprise inclusion in the Russia squad was uncapped CSKA Moscow defender Kirill Nababkin(left). Under Guus Hiddink in 2008, Russia enjoyed a run to the semifinals in Austria and Switzerland. Hiddink's compatriot Dick Advocaat will be hoping for a similar performance this year.
The star of the Denmark squad is young playmaker Christian Eriksen. The Ajax midfielder could earn a move to one of Europe's big clubs with an impressive showing in Poland and Ukraine.
Germany go into Euro 2012 with a squad full of proven international performers and as one of the favorites to lift the trophy. Coach Joachim Low's main concern will be midfielder Bastian Schweinsteiger, who is battling to be fit for Germany's first match against Portugal on June 9.
Netherland's Robin van Persie enters the four-yearly tournament off the back of a prolific season with Arsenal. In addition to Van Persie's firepower, the Euro 1988 winners also have Schalke hitman Klaas-Jan Huntelaar.
Portugal have exciting talents such as Real Madrid's Cristiano Ronaldo and Nani of Manchester United in wide positions, but Paulo Bento's team arguably lack a true goalscorer.
Croatia impressed many spectators with their performances at Euro 2008, before being eliminated in the quarterfinals by Turkey. Luka Modric was their stand-out performer four years ago, and the pressure will be on the midfelder once again in June.
Italy's preparations for Euro 2012 might have been hit by a recent match-fixing investigation, but in striker Mario Balotelli, who has been handed the No. 9 shirt, the Azzurri have a player who could, if he's in the right mood, be the star of the tournament.
Giovanni Trapattoni's Ireland qualified for Euro 2012 courtesy of a strong defence. In a group which includes multiple attacking threats, Richard Dunne will be key to Ireland's chances of reaching the quarterfinals.
An injury to David Villa has opened the door for Fernando Torres to spearhead reigning champions Spain's challenge. Can the Chelsea striker put a difficult couple of years behind him and produce another European Championship-winning goal?
England will be without striker Wayne Rooney for the first two matches of the tournament due to suspension. Can new coach Roy Hodgson adapt and navigate his team out of a tricky group?
Striker Olivier Giroud enjoyed an impressive campaign in the French Ligue 1, playing a key part of Montpellier's championship-winning team. Can the 25-year-old usurp Real Madrid's Karim Benzema as Laurent Blanc's first-choice striker?
Sweden's challenge will be led by the unpredictable talents of AC Milan's Zlatan Ibrahimovic. Despite world-class performances at club level, the striker has so far failed to convince on the international stage.
Ukraine legend Andriy Shevchenko (left) will be taking part in his final international tournament and the former AC Milan striker will be hoping to go out with a bang in front of his home fans.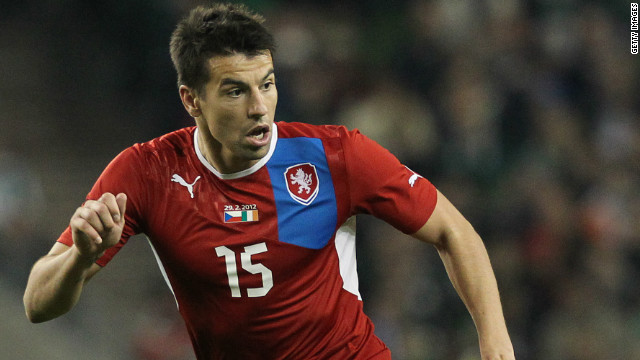 Euro 2012: Key players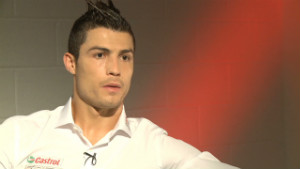 Ronaldo: Winning title career high point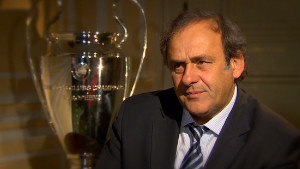 Platini: Bayern, Chelsea worthy of final
However, arguably it might be in FIFA's financial interest to permit the use of GPS given that it recently committed $75 million to an insurance policy to pay clubs a maximum annual payout of $9.7 million per player injured while on national team duty, with clubs paid a daily maximum of $27,000 a player.
"Football needs to legalize its use to enhance player welfare," Duncan, who is head of human performance at soccer club Sydney FC, told CNN.
"It's in the interest of clubs, fans, players and the game itself that we do everything possible to maximize the performance of the player while doing our best to minimize the risk of injury."
Half the size of a mobile phone, a GPS unit can be comfortably worn on the upper back by players.
Duncan wants FIFA to allow the use of GPS to enable managers to track how their players are coping -- and if they are working too hard, to replace them.
"We have substituted players in preseason when these numbers start getting outside normal zones and also to monitor loads in training to ensure injuries are prevented," said the Australian.
Duncan believes GPS has played an important role in significantly reducing injuries at Sydney FC.
"As with any prevention initiatives it's hard to say how much we have prevented but I will say we have reduced injury rates at my club by over 60% this year due to careful monitoring.
"If we could use it in games I do think we could prevent more as many injuries are fatigue related. However I also realize many managers would not make subs based on this."
His fears are backed up by the head of fitness and conditioning at English club Liverpool. Darren Burgess -- another Australian -- remains unconvinced by Duncan's argument, insisting that analysis systems such as Prozone provide more than enough data during the week to measure players' workload.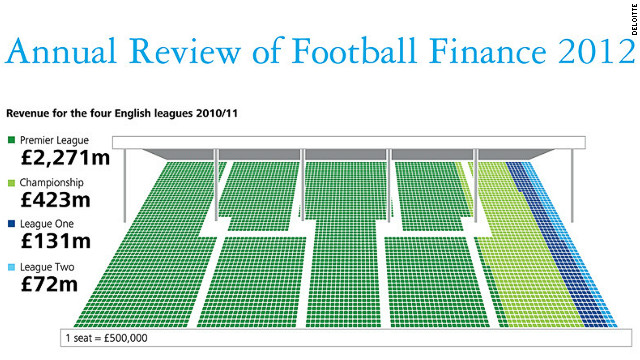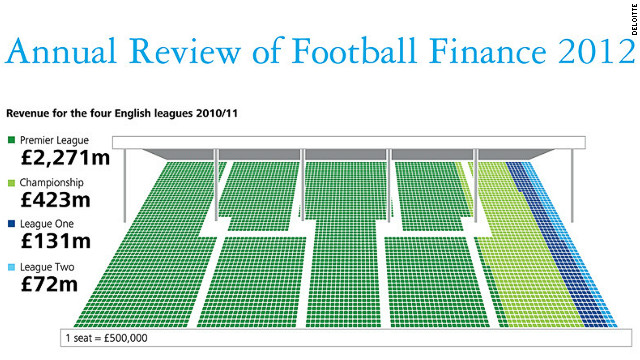 Deloitte's annual football review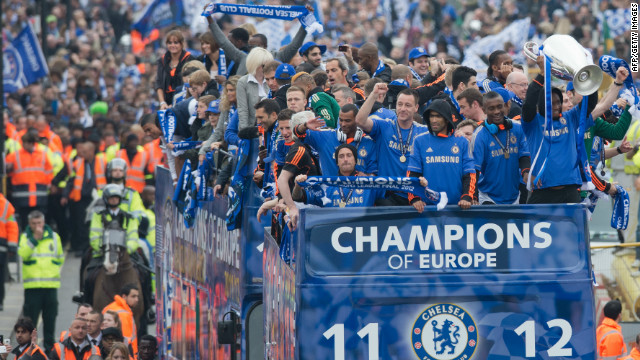 Chelsea beat Bayern Munich on penalties to win the Champions League trophy for the first time in their history
Chelsea fans packed the streets around southwest London to see the victory parade
Chelsea captain John Terry was suspended for the final but lifted the trophy in Munich and was center of the celebrations again on the parade
An estimated 100,000 Chelsea fans were in Munich for the final and thousands more lined the parade route on Sunday
Roberto di Matteo has guided Chelsea to the FA Cup and Champions League, but still doesn't know if he will get the manager's job permanently
Didier Drogba, who could leave the club in the summer, scored for Chelsea to take the game into extra time and converted the winning penalty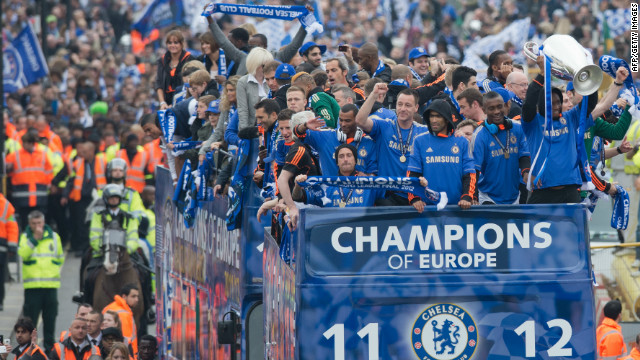 Chelsea parade Champions League trophy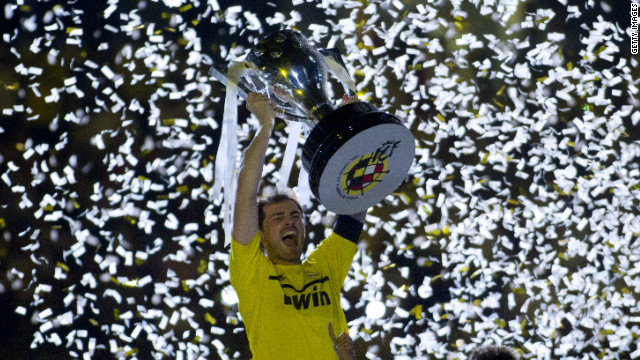 Real Madrid captain Iker Casillas lifts the Spanish Primera Division trophy after Jose Mourinho's team defeated Mallorca 4-1 on Sunday. The 32-time Spanish champions finished the season with 100 points, a record amount.
Villarreal midfielder Marcos Senna cut a forlorn figure after a 1-0 defeat to Atletico Madrid condemned the 2006 European Champions League semifinalists to relegation from the Spanish top flight.
Manchester City beat archrivals and neighbors Manchester United to the English Premier League title on goal difference, after two goals in stoppage gave Roberto Mancini's side a 3-2 victory against Queens Park Rangers.
Defeat in Manchester would have sent QPR down, if Bolton Wanderers had beaten Stoke City. But Owen Coyle's team could only draw 2-2 at the Britannia Stadium, a result which ended Bolton's 11-year stay in the Premier League.
Veteran striker Alessandro del Piero celebrated his final game for Juventus in style, scoring as the Italian champions beat Atalanta 3-1. Juventus were undefeated throughout the 38-game league season.
Filippo Inzaghi marked his final game for AC Milan in similar style to Del Piero, netting the winner in a 2-1 defeat of Novara. Milan finished second, four points behind Juve.
Borussia Dortmund were crowned champions of Germany for a second year in a row, with Jurgen Klopp's side finishing eight points ahead of Champions League finalists Bayern Munich.
At the bottom of the Bundesliga, Hertha Berlin were relegated after losing a two-legged playoff against Fortuna Dusseldorf 4-3 on aggregate. The result means Fortuna, who finished third in Bundesliga 2, will return to the top flight next season for the first time in 15 years.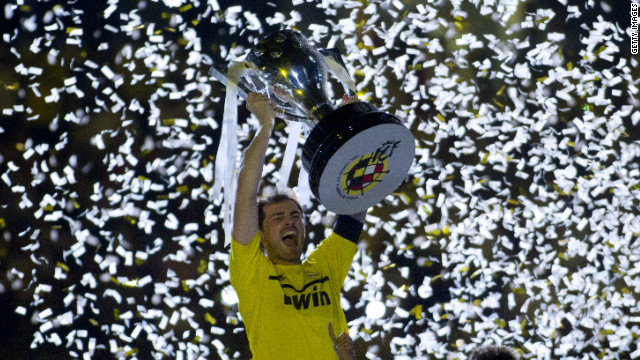 European football season review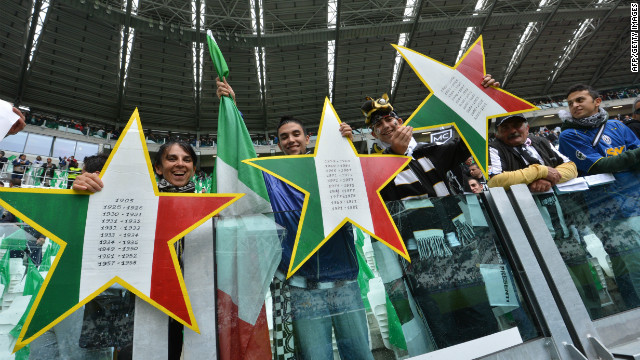 Juventus fans hold up three stars to signify the 30 championships won by the club, but two in 2005 and 2006 have been struck off the official records after the "Calciopoli" match-fixing scandal.
Former Juventus managing director Luciano Moggi gives testimony at a hearing into the match-fixing scandal. He was banned for life while the club lost two Serie A titles and was relegated to Serie B.
Juventus players celebrate their Serie A title success after going through the 2011-12 league season unbeaten to relegate arch-rivals AC Milan to second place.
Juventus coach Antonio Conte, a former fans' favorite as a player, has transformed his side's fortunes since taking charge at the start of the 2011-12 season.
Alessandro Del Piero suffered a disappointment in his farewell match for Juventus, losing the Coppa Italia final to Napoli to end a 43-game unbeaten run this season.
Andrea Agnelli is the latest member from the famous family which own FIAT and Juventus to take the helm at "The Old Lady." The son of legendary former president Umberto Agnelli, he took charge in May 2010 and has made sweeping changes at the club.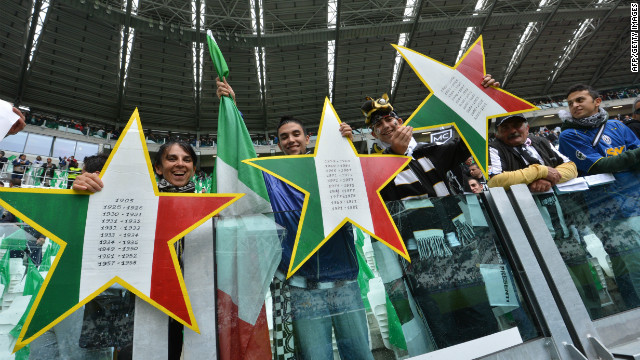 Juventus revived under president Agnelli
"I'm not sure you would ever get to the stage where a coach would make a substitution based on a player's workload -- and I'm in the coach's camp on that one," said Burgess.
He also believes here could also be reliability problems with GPS because major stadiums like Anfield might interfere with the satellite signal.
Question marks have also been raised about GPS accuracy and variability, but Duncan insists that if you are aware of the error range and it is consistent, you will be able to know when a player is outside their desired limits
"I have used it in a number of stadiums without issue and it is used every week in Aussie rules, rugby union and rugby league," he said.
Exercise physiologist Raymond Verheijen, who is working with the Russia national team during Euro 2012, believes as many as 80% of injuries are preventable. He has long argued that fatigue due to overtraining is the cause.
The Dutchman recently published a study demonstrating that teams playing every three days are substantially disadvantaged by player fatigue.
The study, which looked at 27,000 matches, showed that teams playing after just two days' recovery against opponents who had enjoyed at least a three-day gap were found to be 39% less likely to win at home and 42% less likely to win away.
Where both teams had just two days' rest, the away team suffered more, showing a 26% reduced likelihood of victory.
The FIFA insurance program starts after the European Championship in Poland and Ukraine, with UEFA providing insurance for the 16-team event and all national team matches involving players who play in Europe until September 1.
Part of Duncan's reasoning is based on his belief that not enough money is being spent on protecting on a club and country's most valuable assets -- the players.
"I've seen estimates that the total English Premier League wage bill is $2 billion and I would say less than 1% of that is spent on maintenance of these players through the use of sports medicine and sport science," Duncan told CNN.
If we could use it in games I do think we could prevent more as many injuries are fatigue related
Craig Duncan
"It's just not good business. People spend a greater percentage on maintaining a $30,000 car but for some reason commonsense thinking is removed in professional sport."
British company Optima-Life is working with the Firstbeat Technologies -- a Finnish firm that has developed a heart-rate analysis product. Optima-Life's chief executive Simon Shepard says stressed footballers need to get away from thinking just about training and then playing matches.
"There is a real area of excitement that people are starting to understand the multiple demands of being an athlete," said Shepard. "It's not just about the training that you do for 20 hours a week. What is the player doing for the other 148 hours of the week? How are they coping with the demands of travel, media and social relationships?
"So sports teams have the challenge of making sure that athletes take ownership of looking after themselves for 24 hours a day.
"In fact that is not just true of sports people, it also applies to business people."
Although FIFA rules do not permit the use of GPS, a spokesman for the world governing body did point out that on page 65 of the laws of the game it states: "A player may use equipment other than the basic equipment provided that its sole purpose is to protect him physically and it poses no danger to him or any other player.
"All items of clothing or equipment other than the basic equipment must be inspected by the referee and determined not to be dangerous."
Theoretically that might allow clubs or national federations the scope to request that FIFA allows players to use GPS in a game -- and arguably navigate a route to injury prevention.