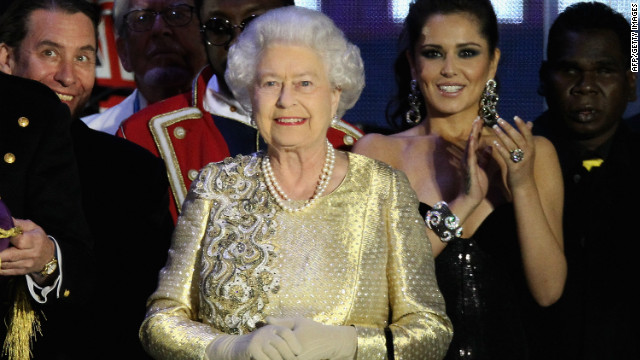 Queen Elizabeth II appears on stage at the climax of the diamond jubilee concert at Buckingham Palace in London, England.
Fireworks light up the stage at the climax of the concert.
Former Beatles singer Paul McCartney headlines at the queen's diamond jubilee concert. McCartney kicked off his set with "Magical Mystery Tour."
Singers Will.i.am and Stevie Wonder perform on stage. Wonder altered the lyrics to some of his songs to pay tribute to the queen.
Elton John began his set with "I'm Still Standing," perhaps also in homage to the queen's long reign.
Singer Grace Jones sings her hit "Slave to the Rhythm" while spinning a hula hoop on her hips.
Singer Annie Lennox performs performs her hit "Must Be Talking to an Angel."
Gary Barlow and the Commonwealth band perform a song specially written for the event.
Australian singer Kylie Minogue performs a medley of her hits on stage during the diamond jubilee concert.
British singer-songwriter Robbie Williams performs on stage at the opening of the concert at Buckingham Palace.
A military band from the British Army's Scots Guard play as the concert honoring the queen gets underway at Buckingham Palace.
Jubilee concert
Jubilee concert
Jubilee concert
Jubilee concert
Jubilee concert
Jubilee concert
jubilee 4
Jubilee concert
Jubilee concert
Jubilee concert
Jubilee concert
STORY HIGHLIGHTS
Buckingham Palace hosts a star-studded diamond jubilee concert in honor of the queen
Elton John, Tom Jones, Paul McCartney among big names playing
Queen's husband, Prince Philip, unable to attend after being checked into hospital
Queen uses laser beam to light last in a global sequence of 4,200 beacons
On June 3 - 5, the UK's Queen Elizabeth II marks her Diamond Jubilee year with a series of parties and pageants. CNN's Piers Morgan and Brooke Baldwin will be there to follow the festivities. Join them at the following times: June 5: 0900 (ET), 1400 (CET).
London, England (CNN) -- With a military band, a string orchestra and electric guitars on full blast, London's Buckingham Palace was transformed into a rock venue on Monday as some of the biggest names in music celebrated Queen Elizabeth II's diamond jubilee.
Former Beatle Paul McCartney headlined a colorful evening of flag-waving entertainment that also saw Stevie Wonder, Elton John and Tom Jones take the stage alongside younger acts.
The event was one of the highlights of four days of festivities that have united millions to honor the long-serving British monarch.
As psychedelic illuminations and the reds, whites and blues of the Union Jack lit up the facade of the palace, McCartney played some of his greatest hits to an audience that included Prince Charles and his wife Camilla, the Duke and Duchess of Cambridge, Prince Harry, Prince Andrew and Princess Anne.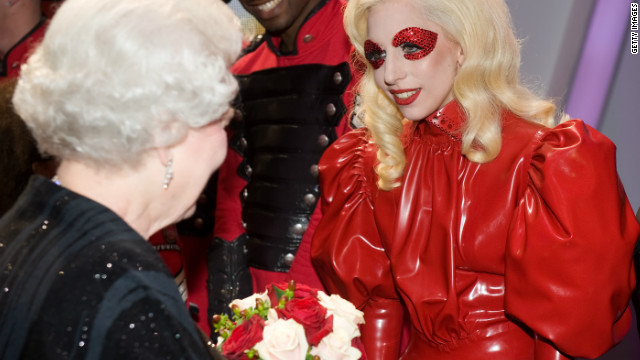 Queen Elizabeth II meets American singer Lady Gaga following the Royal Variety Performance in Blackpool, England on December 7, 2009. Returning to the British seaside town for the first time since 1955, the Royal Variety Performance is an annual event which showcases popular music and entertainment.
During 'Party at the Palace' in honor of the Queen's 2002 Golden Jubilee celebrations, the queen meets bat-eating Black Sabbath frontman Ozzy Osbourne and bizarrely, Kermit the Frog at the same time. 12,000 people watched a pop concert featuring singers spanning many generations in the garden of Buckingham Palace to celebrate Queen Elizabeth's 50 years on the throne.
Britain's Queen Elizabeth II meets Paul McCartney and his wife Nancy Shevell as she visits the Royal Academy of Arts in central London
Queen Elizabeth II meets legendary guitarists Jeff Beck, Eric Clapton, Jimmy Page and Brian May during a reception at Buckingham Palace in London, 1 March 2005. The all-star gathering is a royal tribute to Britain's music industry and follows an earlier children's concert at the Palace
Scottish singer Annie Lennox meets the queen following the annual Commonwealth Day Observance Service at Westminster Abbey on March 14, 2011. The theme of the event was 'Women as Agents of Change.' Lennox is well known for her HIV/AIDS activism.
The queen of pop meets the queen of England -- Madonna curtsies as she meets the queen at the world premiere for 2002 Bond film, 'Die Another Day.'
In 2001, the queen met girlband sensation the Spice girls after a variety performance in London. Here she shakes Geri 'ginger spice' Halliwell's hand as the rest of the group look on.
HM Queen Elizabeth II meets singer Dame Shirley Bassey backstage following the Royal Variety Performance, November 21, 2005 in Cardiff, Wales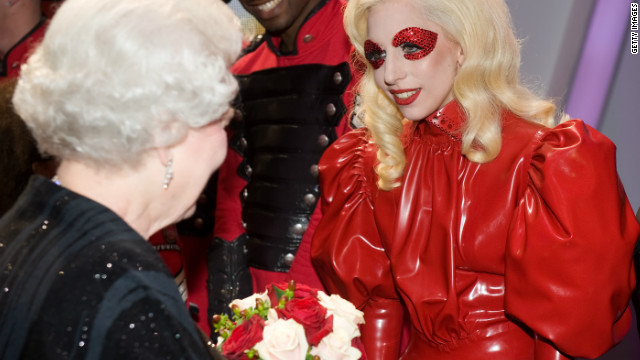 The queen was also there having joined her family at the concert's midway point. Her husband, 90-year-old Prince Philip, did not attend the show as he had been hospitalized earlier in the day with a bladder infection.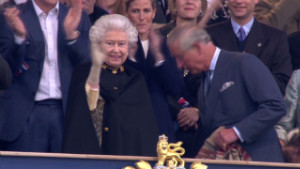 Britain rocks out for queen's jubilee
See also: Canaletto painting inspires royal knees-up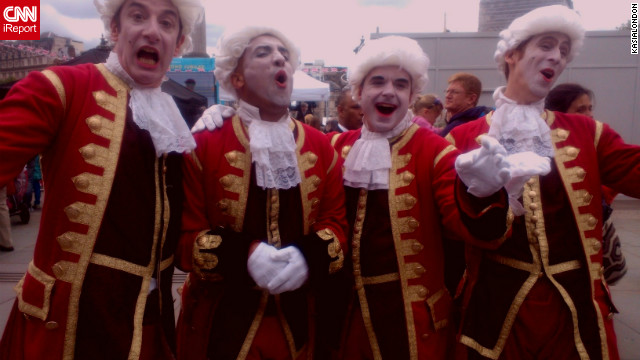 kasialondon stumbled upon court jesters entertaining at London's iconic Trafalgar Square in celebration of the queen's Diamond Jubilee. "The jesters were joking, laughing and making merriment for people," she says. "It was a lot of fun."
Kasialondon sent in this shot to iReport of their Diamond Jubilee celebrations including a jubilee street picnic in London.
Susanvel60 will be having a tea-riffic weekend celebrating the queen's Diamond Jubilee at several tea houses in New Jersey and New York. "I love the Queen. She has been the pillar of stability for all these years and I feel like she really loves her job. 60 years is a long time and I just really admire her dedication to her country and her love for her country."
A group of American Airlines international flight attendants gather in London for the Thames Jubilee pageant on Sunday. Last year they attended the wedding of Prince William and Kate Middleton on the Mall. They told iReport: "This year we couldn't wait for the flotilla. It is was amazing and beautiful day, even in the rain."
Britons around the world celebrate the queen's 60-year milestone by throwing street parties and jubilee events at home. Here a group of expatriates living in Hong Kong celebrate the Diamond Jubilee with a British-themed dinner of Coronation chicken salad and Toad in the Hole.
A portrait of the queen by expressionist painter Stephen B. Whatley. Whatley, who has completed several works for the Royal Collections, says he made the queen laugh when he told her how he was locked in the Tower of London to paint the Crown Jewels. "As she moved away, she looked over her shoulder and said: 'I'm pleased they let you out.'" He adds: "She came across with a great humility, open-heartedness and willingness to learn."
James Mills poses in the uniform he wore while working for the queen from 2002 to 2006. Mills, from Scotland, says: "I had some fantastic memories from my time including dancing the St. Bernard's Waltz with the queen at the 'Ghillies Ball' -- a dance held at Balmoral Castle. Mills also attended the wedding of Prince Charles and Camilla at Windsor Castle, the queen's 80th birthday party, and met President George W. Bush during a state visit in November 2003."
Tatum Botha, then aged nine, waits to meet the queen in Brisbane, Australia on October 24, 2011. Tatum had previously written to the queen and wanted to meet her for as long as she could remember, mom Chaleen Botha told CNN.
Queen Elizabeth II accepts a bouquet from nine-year-old Tatum Botha, October 24, 2011. Tatum's mom Chaleen says the meeting was a dream come true for her daughter. "The Queen said, 'Thank you.' Tatum replied, 'It's a pleasure.'"
Christine E. Denicola, an attorney from Lincoln, Nebraska, has an unexpected encounter with the Queen Mother at an event to honor military veterans on November 08, 1997. "While the meeting was unplanned, I was thrilled to meet the Queen Mother because I knew about how brave she'd been during World War Two, how supportive she'd been of her husband during the time he was king -- and this was prior to the movie, 'The King's Speech,' -- and how she'd not expected to be the queen consort. "
Britain's Queen Elizabeth II during a visit to Brisbane, Australia, October 24, 2011. This photo was taken by Chaleen Botha shortly after the monarch met her daughter, nine-year-old Tatum.
Queen Elizabeth II and Prince Philip tour a college in Burnley, England on May 16, 2012. CNN iReporter Mohammed Seedat, an education ambassador who took the photo, said: "She came in and talked to some of the students. I was taking snaps from the front seat when she turned and looked at me. I was quite scared, I didn't know if I was supposed to be taking photos, but in the end she seemed fine."
The queen inaugurates the headquarters of the London Fire Brigade, February 22, 2008, photographed by iReporter Jacob Varughese. He said: "Before I came down to the UK to do my studies and I had a dream that I would meet the queen once in my life, so when I did it was a dream come true."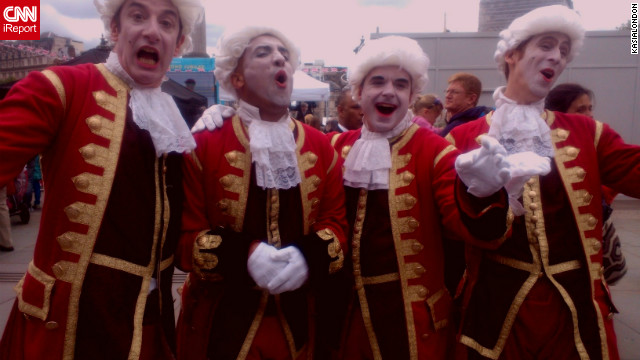 CNN iReporters celebrate British royalty
At the concert's climax the monarch, dressed in a gold gown, joined the cast of performers on stage to ignite the last in a sequence of beacons burning around the world -- a fiery salute to her 60 years on the throne.
She used a symbolic crystal "diamond" to trigger a laser that ignited a "national beacon" as 4,200 celebration fires blazed in communities across the UK and Commonwealth nations as far away as New Zealand and Tonga.
"We are now celebrating the life and service of a very special person over the past 60 years," her son, Prince Charles told 18,000 ticket-holding guests, millions more watching on television and crowds packed into the nearby Mall thoroughfare.
"As a nation this is our opportunity to thank you and my father for always being there for us, for inspiring us with your selfless devotion to duty and for making us proud to be British."
Three rousing cheers and a deafening chorus of the British national anthem, "God Save the Queen," then rang out as fireworks filled the air.
Eyes of the world on spectacular Thames pageant
Artists representing pop, rock, classical and musical theater from every decade of her reign made appearances at Monday's concert.
A few tailored their hits for the occasion. Elton John kicked off his set with "I'm Still Standing," while Stevie Wonder's rendition of "Isn't She Lovely" featured lyrics paying tribute to the "young 86-year-old" queen.
As a nation this is our opportunity to thank you and my father for always being there for us... Making us proud to be British.
Prince Charles
There were plenty of surprises as artists were given rare access to the royal residence and its surroundings. At one point, pop group Madness performed their hit "Our House" from the roof of Buckingham Palace. Earlier, operatic tenor Alfie Boe sang a duet with American soprano Renee Fleming from a palace balcony.
In one of the show's more bizarre moments, Grace Jones sang her 1980s hit "Slave to Rhythm" while swinging a hula hoop on her hips.
Another highlight included the performance of a song specially written by composer Andrew Lloyd Webber and concert organizer Gary Barlow performed by 200 people from around the Commonwealth.
Other acts playing at the concert included Annie Lennox, American rapper Will.i.am, and Australian singer Kylie Minogue.
While she is no stranger to pop concerts thanks to her regular attendance at "royal variety" performances, it wasn't clear from her set expression whether the queen was enjoying the lineup.
Some have suggested the sovereign's music tastes lean towards songs from musicals such as "Oklahoma!." According to British media reports, she wore earplugs at a similar event in 2002 to mark 50 years of her reign.
iReporters celebrate Queen Elizabeth II
There were plenty of jokes on stage, but the queen reserved saved her smiles for the crowd and for quips made by Prince Charles about the weather which, after a weekend of rain, was dry for the duration of the concert.
On Monday she endured heavy downpours to join a flotilla of more than 1,000 vessels parading down London's River Thames as hundreds of thousands of people lined its banks.
On Tuesday, the final day of jubilee festivities, the queen and other members of the royal family are to attend a service at London's St. Paul's Cathedral. After a lunch at the Palace of Westminster she will join a carriage procession traveling back to Buckingham Palace.
CNN's Stephanie Busari and Lauren Said-Moorhouse contributed to this report