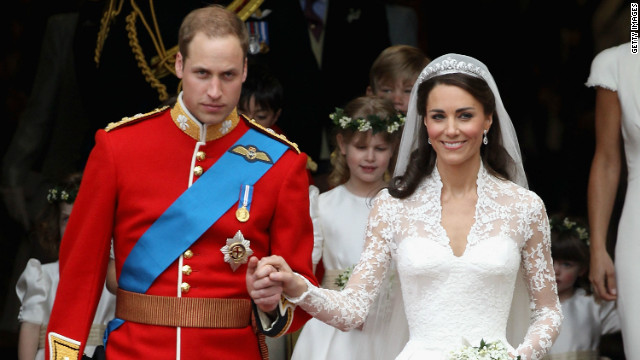 Getty Images photographer Chris Jackson talks to CNN about key images of Kate Middleton
: "I was lucky enough to be positioned right outside the front of Westminster Abbey. I was seriously nervous. I had to get this picture. As they came out the front door, the crowd roared and I was just shooting away and you literally only had a matter of minutes, if that."
Jackson on THAT photo of Pippa Middleton: "You never know exactly what's going to happen afterwards, what the media are going to talk about but I did really feel that this was a strong image. I mean how often do you take a picture where you haven't got someone facing you, you can't see their face? I didn't realise it would be quite such a big deal."
Kate meets Reese Witherspoon in Los Angeles: "I think the thing for me, which really struck me about this moment was having a chat with Reese [Witherspoon] before, she seemed so excited about meeting Catherine. This is someone who mixes with Hollywood royalty every day. But meeting actual royalty was just an incredible thing for her."
On the photo that stirred false pregnancy rumors: "
I'm not sure if someone made a joke or Prince William said something to her but she just sort of laughed a bit and held her hands there and obviously it's a fortunate or unfortunate picture, depending on how you're looking. The picture has winged its way around the world onto numerous front pages."
On Kate's official apperance after her engagement to Prince William: "From the point of view of pictures and moving images, I think Catherine always looks very confident. Even from her first appearance, I remember up in north Wales, she stepped out of the car with a huge smile on her face."
Jackson: "She's developed a few mannerisms. Photographing her on a regular basis, I notice. You know, there's a laugh where she comes back and she laughs and looks at the camera. She often uses her handbag almost like a security blanket. It all looks great, it doesn't look bad at all."
Jackson: "She always enjoys chatting to people and she gives people a great deal of time. Quite often you'll see Prince William has walked off ahead but she is left chatting with someone because she wants to keep talking to them."
Jackson: "This was one of her solo engagements which she made while William was in the Falklands flying rescue helicopters. It just really shows that she gets stuck in and she's got the common touch and a real affinity with the children."
Jackson: "Some of the fashionistas were getting very excited about Kate's jeans. She looked amazing, again. I think she was a little bit nervous when she arrived. But she knocked the ball around for a bit and I think the nerves evaporated slightly. It's great seeing her get stuck in and she doesn't hold back."
Jackson: "She looks great in pictures. There's much talk about her weight. The fact is she's slightly slimmer. I think she looks healthy. It means that clothes look really good on her."
Royal Wedding
Pippa Middleton
Kate meets Reese Witherspoon
The 'pregnancy' false alarm
Kate arrives in Wales
Kate's handbag 'security blanket'
Kate enjoys chatting to people
Kate hugs a young girl
Kate's unusual hockey kit
'Clothes look really good on her'
STORY HIGHLIGHTS
Sarah Ivens is a British journalist living in America
Young royals have injected excitement into the royal family, Ivens argues
Duke and Duchess of Cambridge and Harry are triumvirate of British charm, she says
Editor's note: Sarah Ivens is the founding editor-in-chief of OK! magazine in the U.S. and an author. Her writing has been featured in Marie Claire, Glamour, In Style and GQ. A born and bred Londoner, she now lives in Los Angeles. Her new book about the pleasures and pitfalls of life for a Brit in the U.S., is out now on Amazon.
Los Angeles (CNN) -- "It's the queen's diamond jubilee soon!" I recently babbled excitedly to some of my American friends. "Let's have a party like we did for the royal wedding -- I'll provide Union Jack hats and streamers, jugs of Pimm's and a gargantuan amount of chocolate Hobnobs!"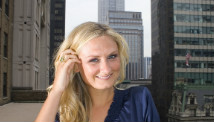 Sarah Ivens
There was barely a murmur in response. Just one year previously, they'd been a stampede of Yanks at 5am on my doorstep, desperate to get prime position in front of the television as Kate walked up the aisle.
"You know, the queen?" I battle on in my local Los Angeles coffee shop. "Helen Mirren played her, remember? She was Colin Firth's daughter? She's the great-great-granddaughter of Judi Dench, when Judi was into Scotsmen and horses?"
None of my film tidbits cause a swirl of interest, despite my Hollywood crowd. In Tinseltown years, Queen Elizabeth II is about 405 -- roughly the same as Dumbledore, they imagine -- and far too old to get excited about.
"Will the princes be there?" one Californian chum finally responds.
"Of course! She's their grandma!" I reply indignantly.
"Well, in that case," she nods, "I'm sure we'll all be there. Any glimpse of those boys is worth getting up early and facing traffic for."
I must admit, after living as a Brit in America for seven years, I have found we share surprisingly few traits or interests. We Brits love Take That; Americans have never heard of them.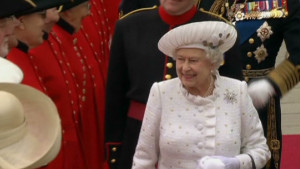 Queen marks diamond jubilee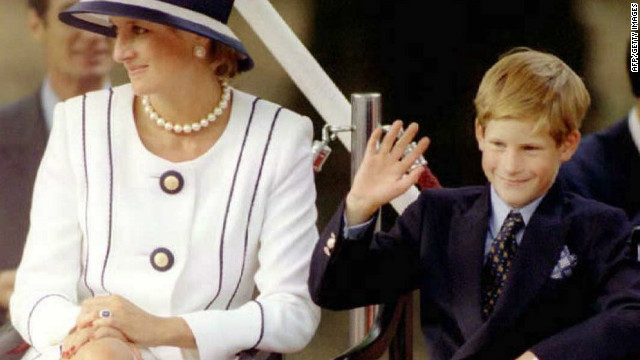 August 1995: Princess Diana and her son Harry attend an event commemorating VJ Day.
September 1997: Prince William and Prince Harry bow their heads as the coffin carrying their mother Diana is taken out of Westminster Abbey.
March 2003: Prince Harry plays the Wall Game, a traditional sport at Eton College.
November 2003: Prince Harry celebrates after England won the Rugby World Cup final at the Olympic Park Stadium in Sydney.
January 2005: A man reads a newspaper with a headline about Prince Harry wearing a Nazi uniform at a costume party.
June 2005: Prince Harry takes part in the Trooping Of New Colours alongside his fellow officer cadets at the Royal Military Academy.
January 2005: Prince William and Prince Harry help out at a Red Cross depot packing aid for victims of the Indian Ocean tsunami.
April 2009: Prince Harry and Prince William attend the marriage of their father, Prince Charles, and Camilla Parker Bowles.
May 2008: Prince Harry is pictured with ex-girlfriend Chelsy Davy leaving a service of remembrance and thanksgiving at a church in Windsor, England.
January 2008: Prince Harry sits on his bed at Forward Operating Base Delhi, in Helmand province in Southern Afghanistan.
October 2011: Prince Harry prepares his Apache helicopter to go out on a mission in El Centro, California.
March 2012: Prince Harry poses with sprinter Usain Bolt in Kingston, Jamaica.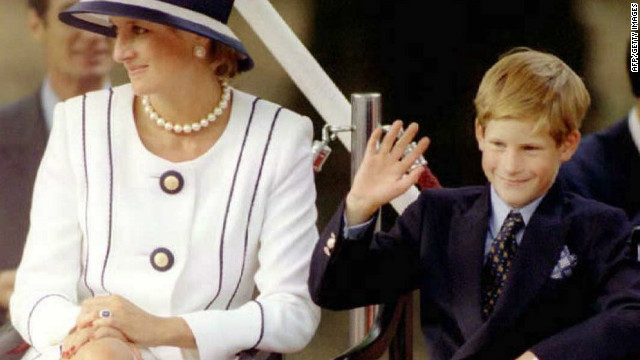 From young royal to soldier prince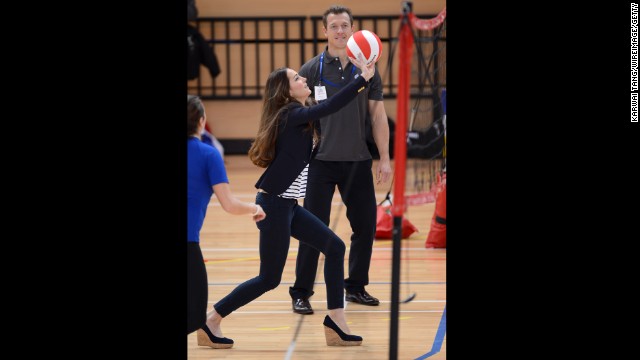 Catherine, Duchess of Cambridge, participates in a SportsAid Athlete Workshop in London on Friday, October 18. She showed up for the charity event in skinny jeans, a smart blazer and wedges. Click through to see more photos of her style through the years.
Catherine, Duchess of Cambridge attends the Tusk Trust Conservation Awards at The Royal Society on Thursday, September 12, in London.
Kate and Prince William start the Ring O'Fire Anglesey Costal Ultra Marathon In Holyhead, Wales, on Friday, August 30. It was Kate's first public appearance since the birth of Prince George.
Kate at the Ring O'Fire Anglesey Coastal Ultra Marathon on August 30.
Kate, has proved to be quite the fashionista since her relationship with Prince William catapulted her into the limelight.
Showing off her new 'do on November 27, she wore a green Mulberry dress to the opening of The Natural History Museum's Treasures Gallery in London.
Prince William and Catherine dress casually for a walk through the Danum Valley research center in Sabah, Malaysia, on September 15.
The duchess donned a white and gold gown by Alexander McQueen for a dinner hosted by Malaysia's head of state on September 13.
Wearing a white suit by Alexander McQueen, the Duchess of Cambridge arrived at Singapore's Gardens by the Bay on September 12.
She wore a Prabal Gurung dress while visiting the Istana in Singapore on September 11. "So xctd that I just stopped some strangers on the street n showed them the pic of Kate Middleton in our dres," Prabal Gurung tweeted that day.
Also on July 26, she and Prince William visited Bacon's College in London. The grey and white Hobbs dress she wore sold out quickly.
The Duchess of Cambridge stunned in a Jenny Packham gown at an event hosted by the British Olympic Association. The teal number, complete with a lace back, is just one of her many noteworthy looks.
Kate donned a belted emerald coat by Emilia Wickstead on St. Patrick's Day in Aldershot, England. She accessorized her ensemble with a gold shamrock brooch -- a royal heirloom, according to The Telegraph.
She ditched her usual heels and fascinator to play field hockey with Great Britain's women's team wearing tangerine-colored jeans.
Kate wore a printed Orla Kiely coatdress while visiting Rose Hill Primary School in Oxford. That day, Lucky magazine reported that the jacket had already sold out in stores and online.
Wearing a gray coatdress, the Duchess of Cambridge posed for pictures at the National Portrait Gallery in London.
Prince William kept his wife dry at the London premiere of "War Horse" on January 8, 2012. She wore a black lace Alice by Temperley gown and carried a black clutch.
Kate wore an Amanda Wakeley gown to a reception at London's Clarence House on October 26 2011.
Clad in Alexander McQueen, she arrived for BAFTA's Brits to Watch event in Los Angeles on July 9 2011.
Earlier that day, Kate attended the Foundation Polo Challenge wearing a knee-length, floral Jenny Packham dress.
Kate wore a green Diane Von Furstenberg frock in Los Angeles on July 8 2011.
That same day, she attended an event at the Beverly Hilton hotel wearing a knee-length Roksanda Ilincic dress.
On one of the first stops on Will and Kate's Canadian tour, the couple watched a rodeo demonstration in Calgary on July 7 2011.
Kate almost had a wardrobe malfunction when the pair arrived in Calgary that day. The skirt of her canary yellow Jenny Packham dress kept blowing up in the wind.
Kate kept it casual in Yellowknife, Canada, on July 6 2011.
Will and Kate, wearing a purple Issa dress, celebrate Canada Day in Ottawa.
Stepping out in another Jenny Packham gown, Kate attends a gala at London's Kensington Palace with William on June 9 2011.
Camilla, duchess of Cornwall, and Kate attend the Order of the Garter Service on June 13 2011. Kate wore a silver coat and fascinator.
Last but not least is Kate's stunning wedding dress. She wore the gown by Alexander McQueen designer Sarah Burton when she married William on April 29, 2011.
Kate, dressed in a red coat, and her then-fiancé visited the University of St. Andrews in Fife, Scotland, in February 2011. The couple met while studying at the university.
Will and Kate posed for photographs after announcing their engagement in November 2010.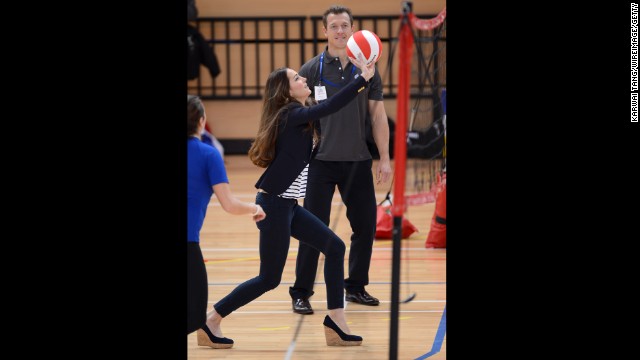 Photos: Kate's best looks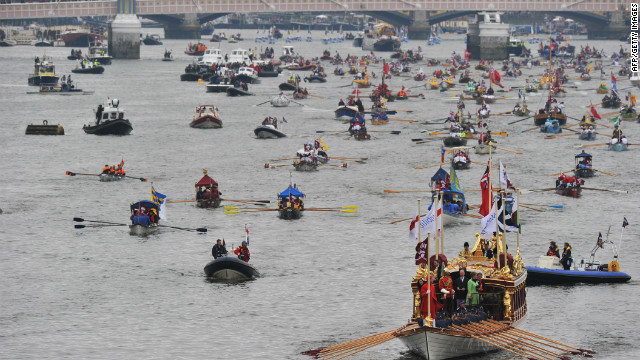 The queen's royal barge, Gloriana leads the way as the River Thames is awash with color from flotilla participants.
Britain's Queen Elizabeth II waves to thousands along the Thames as the royal barge makes its way down the river.
The queen and the Duke of Edinburgh leave the docks and head out on to the water to the beginning of the Thames River Pageant.
Prince William, his wife Catherine and Prince Harry prepare to board the royal barge "Spirit of Chartwell" during the Thames Diamond Jubilee Pageant on the River Thames in London on June 3, 2012.
Queen Elizabeth II is greeted by Chelsea pensioners at Chelsea Pier ahead of the Thames River Pageant. This is the second time in British history a monarch has reached a diamond jubilee milestone.
Participants sit in row boats in preparation for the start of the jubilee flotilla along the Thames for the queen's diamond jubilee.
Despite the rain, tens of thousands gathered to get a good spot in time for the 1000-boat flotilla in the celebration of the queen's 60th year on the throne.
A woman flies a Union flag during the Thames Diamond Jubilee Pageant on the River Thames in London on June 3, 2012.
Two pageant spectators dressed as the queen (complete with corgi) and a "coronation chicken" pose for a photograph along the River Thames. Thousands are expected to turn out for the pageant to celebrate the queen's Diamond Jubilee
Anti-royalist protestors demonstrate beside the River Thames in London ahead of the 1,000 boat Diamond Jubilee River Pageant on June 3, 2012.
Prince Charles, Prince of Wales and Camilla, Duchess of Cornwall attend the "Big Jubilee Lunch'" in Piccadilly ahead of the Diamond Jubilee River Pageant.
Britain's queen spends a day at the Epsom Derby marking the opening of her Diamond Jubilee weekend on June 2, 2012. Elizabeth II smiles from the royal balcony with Prince Edward, Earl of Wessex behind her.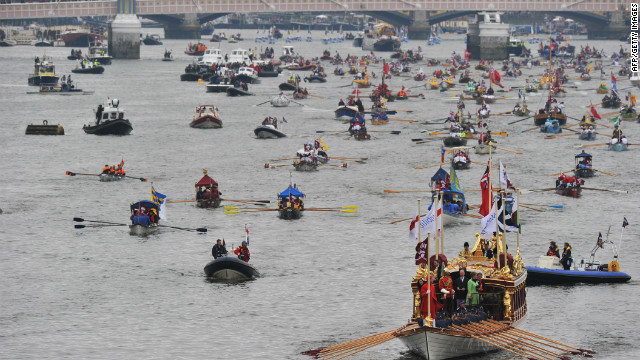 Diamond Jubilee: As it happens
We crave a simple hot cup of tea with a splash of milk while they insist on adding ice cubes and a slice of lemon. We're scared of guns, they're scared of boobs. But one place where our old and new world tastes collide is with Prince Harry. "Don't you just love him?" I hear as much as "I love your accent!"
Watching my adopted homeland fall under the spell of the young royals has encouraged me to dismiss any cynicism I might have toward them (paying for a round of shots at Boujis, are we? A skiing trip -- how lovely, I wish I could afford to get piste!) and embrace the great international marketing campaign they are doing for the UK right now.
I admit feeling a smug superiority watching Jennifer Lopez fawn over Kate and William on their trip to my city last year. Our future monarch and his Mrs. have the X factor -- without the help of publicists, agents or Botox.
Our history makes them dazzling, our traditions make them awe-inspiring. And combining that -- at last! -- with great bone structure, a sense of humor and the slightly-common touch (thanks to Diana's legacy and high street fashion).
The Duke and Duchess of Cambridge and the duke's naughty little brother are a triumvirate of British charm, to be exported all over the world as a symbol of our greatness, much like Downton Abbey.
I love that Kate wears the same outfit time after time and does her own supermarket shopping; I like that Wills enjoys a Sunday roast round "Mike and Carol's," (his in-laws) adore Harry's incessant need to take the mickey out of his brother, be it wearing a mask of his face on a fun run or asking him embarrassing questions in front of journalists.
As much as I think the queen has done a brilliant job, and I look forward to celebrating her jubilee with glee, we have the kids to thank for the detoxification of this once staid, fusty old brand. And I'm sure no one would agree more than Her Majesty.
The opinions expressed in this commentary are solely those of Sarah Ivens.